&nbsp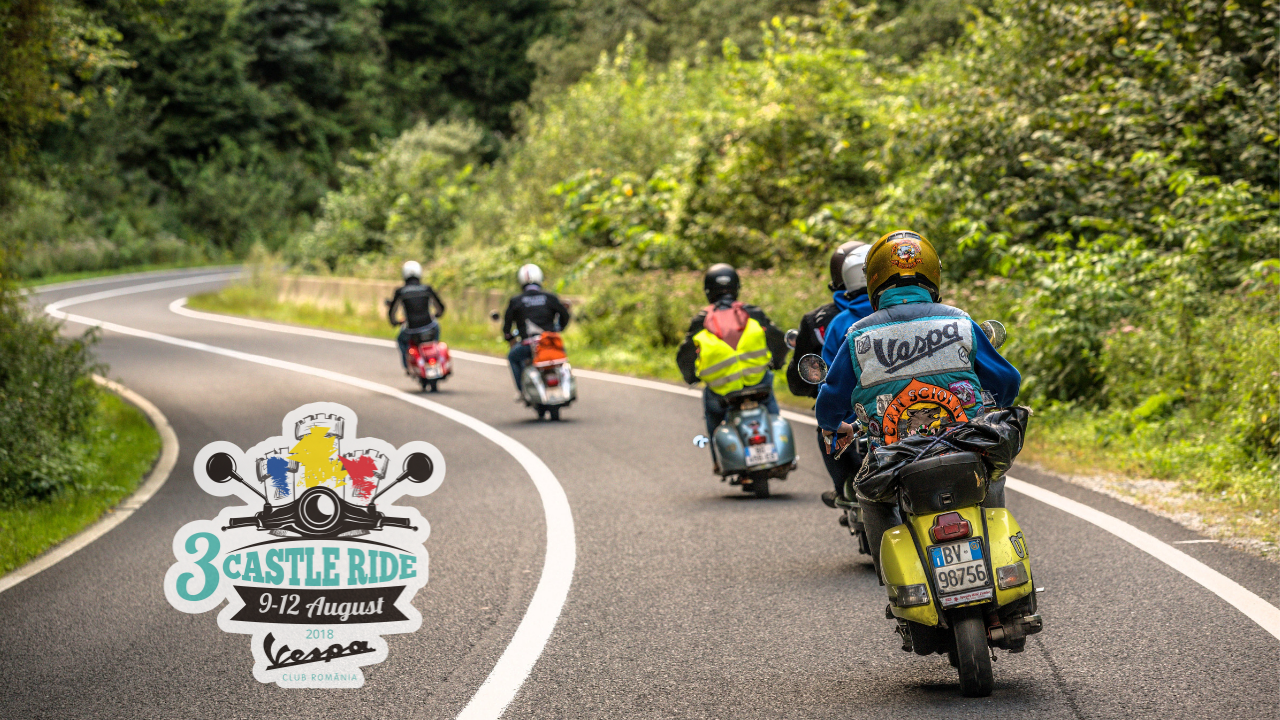 3 Castle Ride
Fotografii oficiale eveniment(courtesy WeMustBeTrippin sponsored by Peroni):
Eveniment International Vespa in Romania: 3 Castle Ride 2018
In perioada 9 -12 August 2018, Vespa Club Romania a organizat prima editie a seriei Vespa Carpathian Rides: 3 Castle Ride 2018, acesta fiind primul eveniment international Vespa organizat in Romania si primul de gen, in Europa Centrala si de Est. Am fost placut impresionati si bucurosi sa avem printre participanti: Comisarul de Turism al Vespa World Club si presedinti ai cluburilor nationale din 5 tari. Numarul rider-ilor ajungand in final la aproximativ 70 venind din 13 tari (Serbia, Ungaria, Slovenia, Croatia, Polonia, Slovacia, Cehia, Italia, Belgia, Germania, Russia, Albania, Franta) si bineinteles Romania.
3 Castle Ride 2018 a fost organizat sub forma unui ride turistic, cu un traseu care a acoperit drumurile de importanta turistica din Centrul tarii (Transfagarasan, Transalpina), castele si cetati de mare valoare (Castelul Poenari, Cetatea Alba Carolina si Cetatea Sighisoara). Pe durata celor  trei zile, rider-ii au parcurs aproximativ 700km cu o medie de 230km pe zi, bucurandu-se astfel de privelistea oferita, gastronomie si ospitalitatea tarii noastre.
Din fericire pentru noi si participanti, cele trei zile au fost pline de soare si temperaturi de vara, aducand si mentinand astfel zambetul pe buzele tuturor. Organizarea 3 Castle Ride 2018, nu a presupus conducerea vespistilor pe trasee, acestia (rideri cu state vechi la evenimentele de gen) primind ruta in format digital si avand libertatea de a-si stabili cadenta si chiar traseul.
Programul evenimentului: 
Ziua 0 / Joi 9 August: Sibiu / Lili's Cafe
Ziua 1 / Vineri 10  August: Sibiu – Transfagarasan – Rm Valcea (200km)
Ziua 2 / Sambata 11 August: Rm Valcea – Transalpina – Alba Iulia (258km)
Ziua 3 / Duminica 12 August: Alba Iulia – Sighisoara – Sibiu (245 km)
Suntem mandrii de reusita noastra si tinem sa multumim tuturor participantilor, sponsorilor, prietenilor si celor care ne-au oferit ajutorul pentru organizarea acestui eveniment. Acesta este doar inceputul…
Fotografii oficiale eveniment(courtesy WeMustBeTrippin sponsored by Peroni):
Cateva din comentariile participantilor:
Kresimir Tubicanek (Croatia) : "Cea mai interesantă întâlnire cu vespa vreodată, cel puţin pentru mine. Complet diferit de ceilalţi de mai multe diferenţe. În primul rând şi cel mai important, eram doar 70 dintre noi. Asta-i bine, pentru că poţi să stai cu toată lumea un pic. În plus, am avut parte de un timp frumos, fara ploaie. Am dormit în super-condiţii, cu greu în propriul nostru aranjament. Mese comune şi mic dejun, super mâncare…Și da, România este frumoasă, oamenii sunt ospitalieri și ospitalieri, și totul este mai ieftin pentru aproximativ 30 %. Drumurile sunt în mare parte bune, autostrada gratuita pentru motoare…
Alexey Bulkin (Vespa Club Russia – President): " The special 4th day of 3 Castle Ride – President Ride Sibiu to Bucharest with Cristi Turcin. Many thanks to Cristi Turcin and to all of VC Romania who made this 3 Castle Ride – the perfect ride. Thanks to all vespisti from 18 Contries who come to Romania and make this meeting international. The weather was sunny, beer was cold, food was tasty, rooms were comfortable, pool was with water…."
Treesje Vanhaeren (Vespa Club Hasselt): "This ride, in which we drove some 600 km in 3 days through a stunning country, brought us more than we had asked for. Not only did we enjoy the amazing views (which cannot be described in words), not only did we race through the most wonderful curves (Grossglockner, eat my *ss), not only did we bath in luxury (pool party!), but on top of that we were in the best company anyone could ask for!
Jean-Charles Caradonna (Cercle Vespiste de France):"…..merci au VC de Roumanie pour cet événement extraordinaire "
Robi Tomasini (Vespa Club Luxembourg): "Bien rentré de l'aventure Rallye en Rumanie ont ne regrette pas de l'avoir fait merci"
#3CastleRide #VespaClubRomania #Vespa #CastrolRomania #PeroniNastroAzzuro #TheBikeHubRomania #TucanoUrbano #TucanoUrbanoRomania #SIPScootershop #mthelmets #danubstudio #liliscafe #Transfagarasan #Transalpina #Sibiu #RamnicuValcea #Grandhotelsofianu #GolfHotelPianu #liliscafe